The Comcast Holiday Spectacular
1701 JFK Blvd Philadelphia, PA 19103
Comcast Center Lobby
The Universal Sphere™
1800 Arch St Philadelphia, PA 19103
Comcast Technology Center, Upper Lobby

Celebrate the 2022 Holiday Season on the Comcast Center Campus
The Comcast Center Campus is excited to invite guests to celebrate the 2022 holiday season with The Comcast Holiday Spectacular, the launch of a sensory-friendly experience at The Universal Sphere, and more.
Programming kicks off Thanksgiving Day and runs through New Year's Day. Additional information, hours of operation, and locations across the campus can be found below. Check back for updates throughout the season.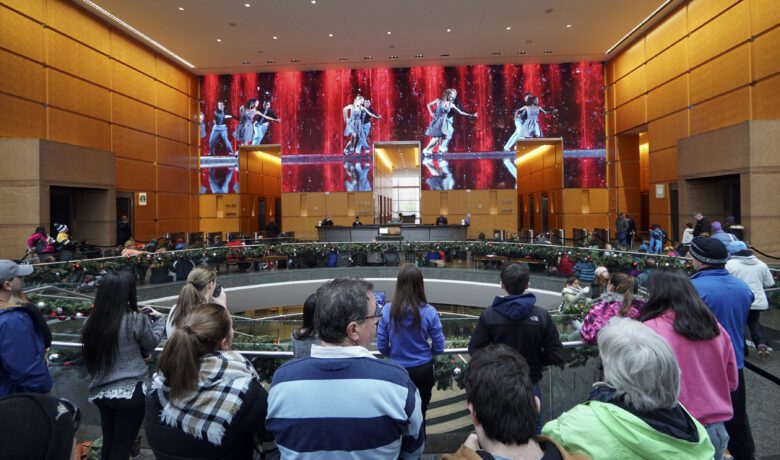 The Comcast Holiday Spectacular
The magic of the holidays comes alive with The Comcast Holiday Spectacular, a 15-minute family-friendly show featuring classic holiday songs and performances by the Philadelphia Ballet. The show debuts at 10:00a on Thanksgiving Day.

A sensory-friendly version of The Comcast Holiday Spectacular will again be offered for the 2022 season. Guests who are blind or visually impaired may use their own personal mobile devices to access Audio Description (AD) of the show. AD devices will also be available upon request.

To use your own device for AD, download the Listen EVERYWHERE App and connect to the Holiday_Show WiFi network when you arrive. Select the Holiday Show in the app, and you're all set!

Thanksgiving through New Year's Day
Daily, 10a – 8p, at the top of every hour (except for 5p)
*Sensory-friendly shows every Thursday and Friday at 2:30 p.m. and upon request.
Listen Everywhere App
Learn More About The Comcast Experience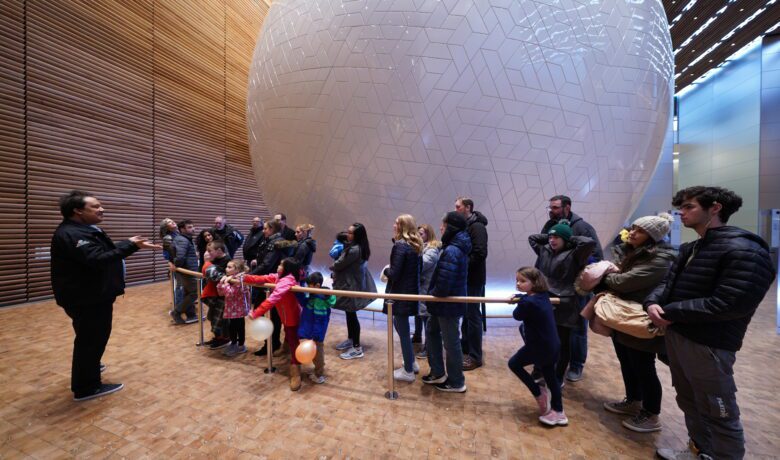 The Universal Sphere™
Make your way over to The Universal Sphere, located in the upper lobby of the Comcast Technology Center. From Steven Spielberg, DreamWorks Animation, Universal Parks & Resorts, and Comcast Labs, The Universal Sphere is a cinematic experience that explores the power of ideas.

Free and open to the public, The Universal Sphere is wheelchair- accessible and service animal friendly, offers closed captioning and Audio Description (AD), has full translations available in Spanish and Mandarin Chinese, and is designated a Certified Autism Center™.

New for the 2022 holiday season, The Universal Sphere will offer a sensory-friendly experience to create a more welcoming and comfortable environment for autistic people and those with sensory, social, learning, or cognitive disabilities. Guests who request a sensory-friendly experience can expect modifications to sound levels, reduced movements, and lighting adjustments to reduce blue light and eliminate flashing.

Open year-round, with extended hours during the holiday season.  Daily, 10a – 8p, last show at 7:45p.

Advanced reservations encouraged. Reserve complimentary tickets and review sensory friendly showtimes at the link below.
Reserve Your Complimentary Ticket
Learn More About The Universal Sphere
Vernick Coffee Bar
Stop by for fresh baked goods and warm drinks prepared by the expert team at Vernick Coffee Bar.
YOU MAY ALSO BE INTERESTED IN