Local Artists & Makers
To bring the Comcast Technology Center to life and make it our home, we commissioned works by more than 40 talented artists and makers. Whether they grew up here, attended school in the area or currently reside in the city, all of the artists and makers have a special connection to Philadelphia. These murals, photographs, sculptures, and furniture are installed throughout the building, fueling creative inspiration and giving each workspace its own singular personality, while representing the vibrancy of our city.
Search alphabetically by first name: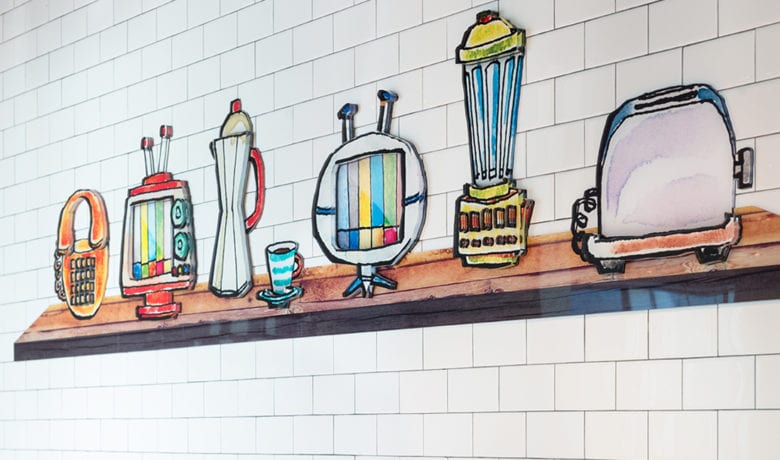 Alex Stadler
Digital printing on Lucite
An artist, author, illustrator, and textile designer, Alex Stadler lives and works in Philadelphia. Alex has written and illustrated several books, and has created artwork for Comme des Garçons, Saks 5th Avenue, and babyGap. Alex also designed a rug and a group of ottomans for loft work spaces in the Comcast Technology Center.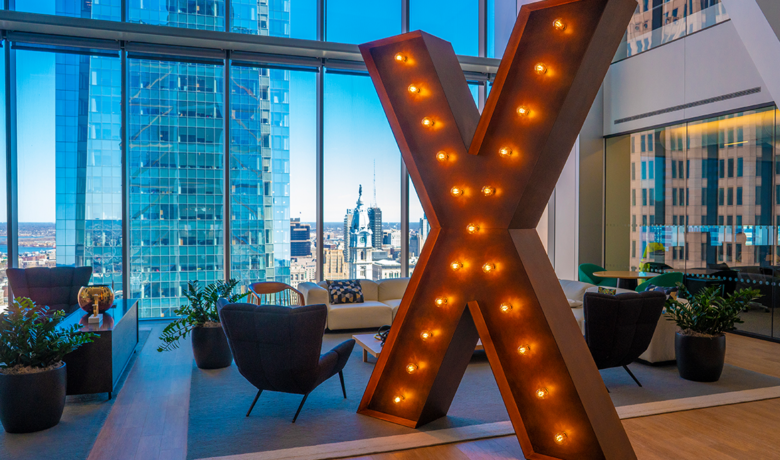 Amuneal
Aluminum with hand rusted finish
This second-generation family business has built its products in Philadelphia since 1965. Originally centered on aerospace, medical equipment, and industrial electronics, Amuneal expanded to offer custom fabrication services to architects and designers. Its nearly 10-foot-tall "X" Xfinity Sculpture references Comcast's suite of products and was inspired by the visual strength and simplicity of vintage industrial signage. It is one of several Amuneal pieces featured in the Comcast Technology Center.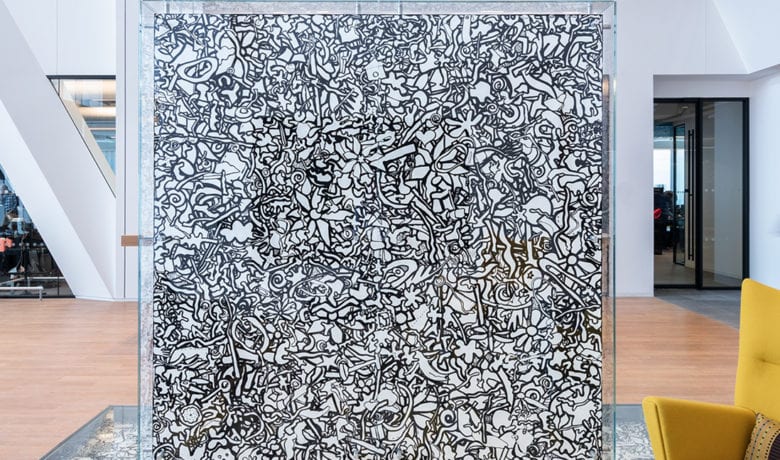 Astrid Bowlby
Ink on cut paper
Astrid Bowlby makes drawings, prints, sculptures, and installations and has received four fellowships. Astrid is based in Philadelphia and has exhibited her work in many venues, including the Philadelphia Museum of Art. Made from thousands of ink and brush drawings cut from paper, Kiosk explores drawing as both a physical analogy to thinking and as a gateway from desire to acquisition.
Watch Video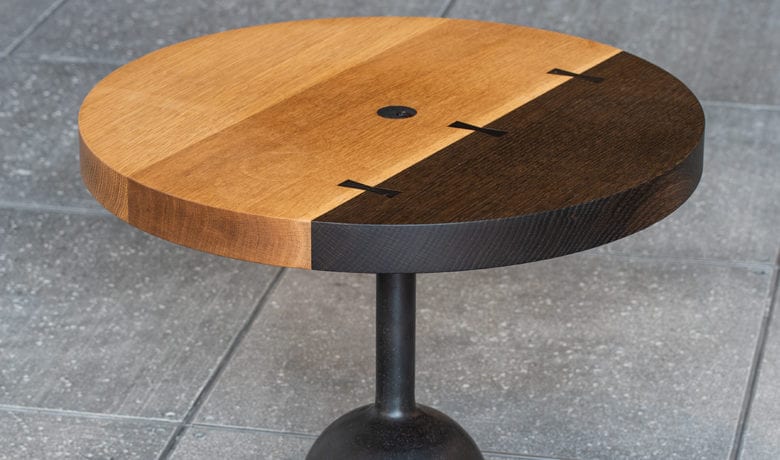 A small American furniture company dedicated to the creation of well-crafted, timeless designs, BDDW is best known for heirloom-quality, traditionally joined solid wood furniture. The company's founder, Tyler Hays, designs and makes all of BDDW's pieces in his Philadelphia studio using select domestic hardwoods that are hand-rubbed with natural oil and lacquer finishes. Several of his tables are featured in the Comcast Technology Center.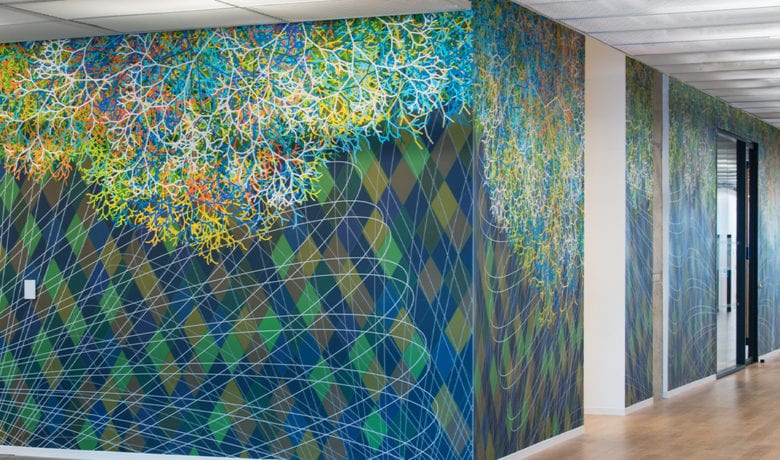 Ben Volta
Archival pigment print, acrylic on polytab; printed film on glass
From Abington, Pennsylvania, Ben Volta creates public murals and sculptures, working within the fields of education, restorative justice, and urban planning. His practice stands on the belief that art can be a catalyst for change. Composed with his wife, Eilish, and their sons, Milo and Thoreau, Synaptic Garden seeks to make visible a process of seeding, taking root, sprouting, connecting, and searching for the creative sparks that keep us reaching for the stars.
Watch Video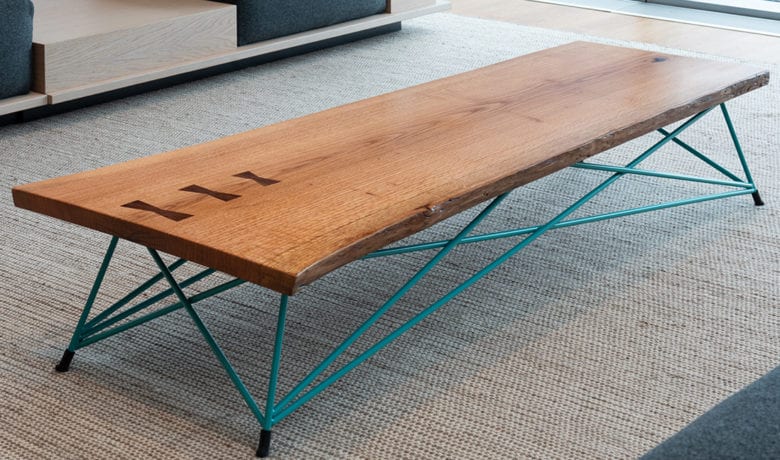 Brace and Bit
Metal and wood
Blair Buchanan conceived of Brace and Bit as a way to merge both his love for furniture and design, with his passion for working with his hands. Blair is continuously working on expanding his knowledge and craft in woodworking to bring pieces to life that merge traditional, contemporary, and industrial design aesthetics for commercial and residential interiors.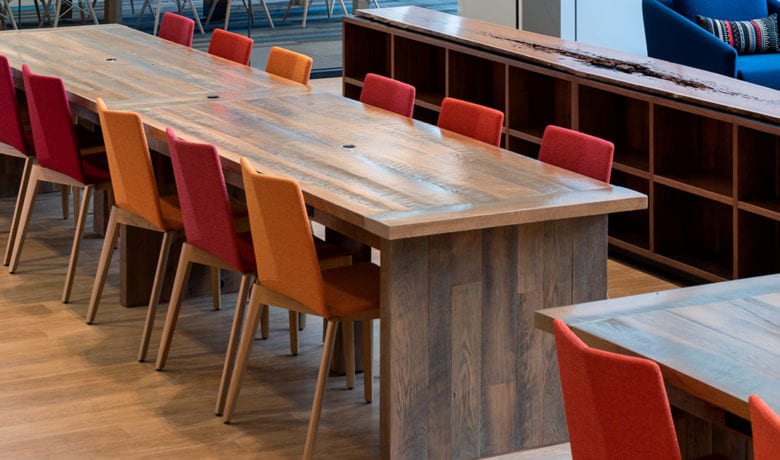 At his artisan wood shop in Glen Mills, Pennsylvania, owner Chris Zumpano handcrafts each piece of custom-made furniture with attention to detail and an eye toward the balance of form and function. He uses traditional woodworking techniques to ensure that the structural integrity of the product is durable, and he implements sustainable practices to minimize the company's carbon footprint.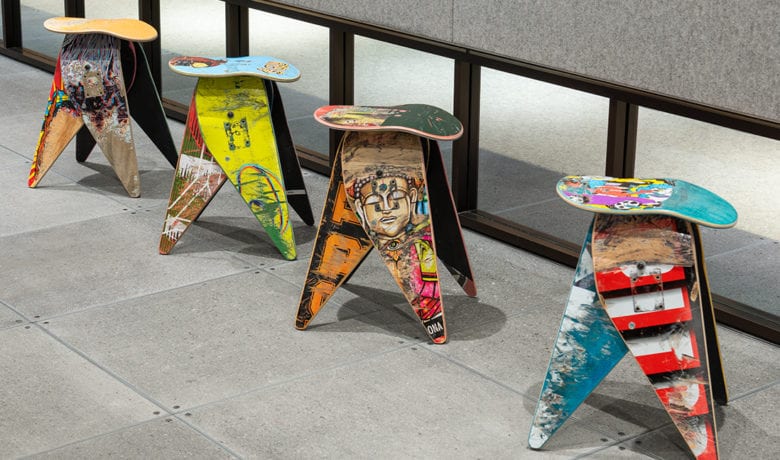 Deckstool
Recycled skateboards
Brothers Jason and Adam Podlaski recycle broken skateboards into unique, high-quality furniture and other products at their Philadelphia area shop. Deckstool's recycling program supports independent skate shops and parks across the country by transforming used decks into beautiful designs that showcase the scrapes, scars, and graffiti that occur over original skateboard artwork.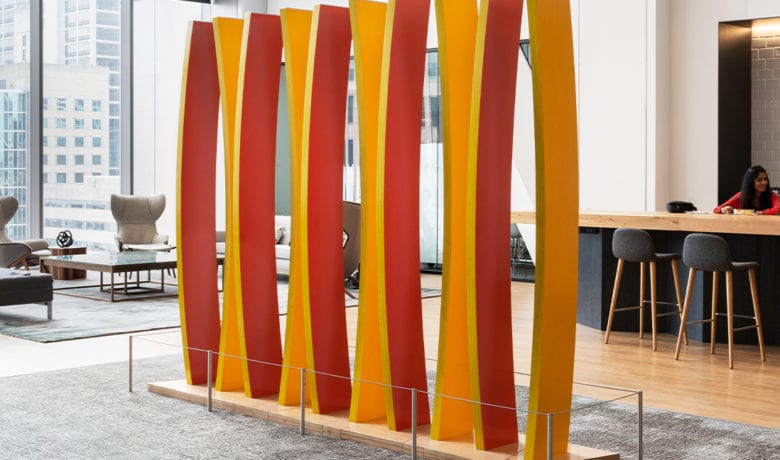 Dennis Beach
Plywood, acrylic and epoxy
Born in Maryland, Dennis Beach received an MFA from the University of Delaware and a BFA from Maryland Institute College of Art. After moving to the Philadelphia area in 2002, he started showing at Schmidt Dean Gallery and has since participated in more than 30 exhibitions. Curve #10 involves processes that transform materials into objects that combine the beauty and order that Dennis mines from the natural world.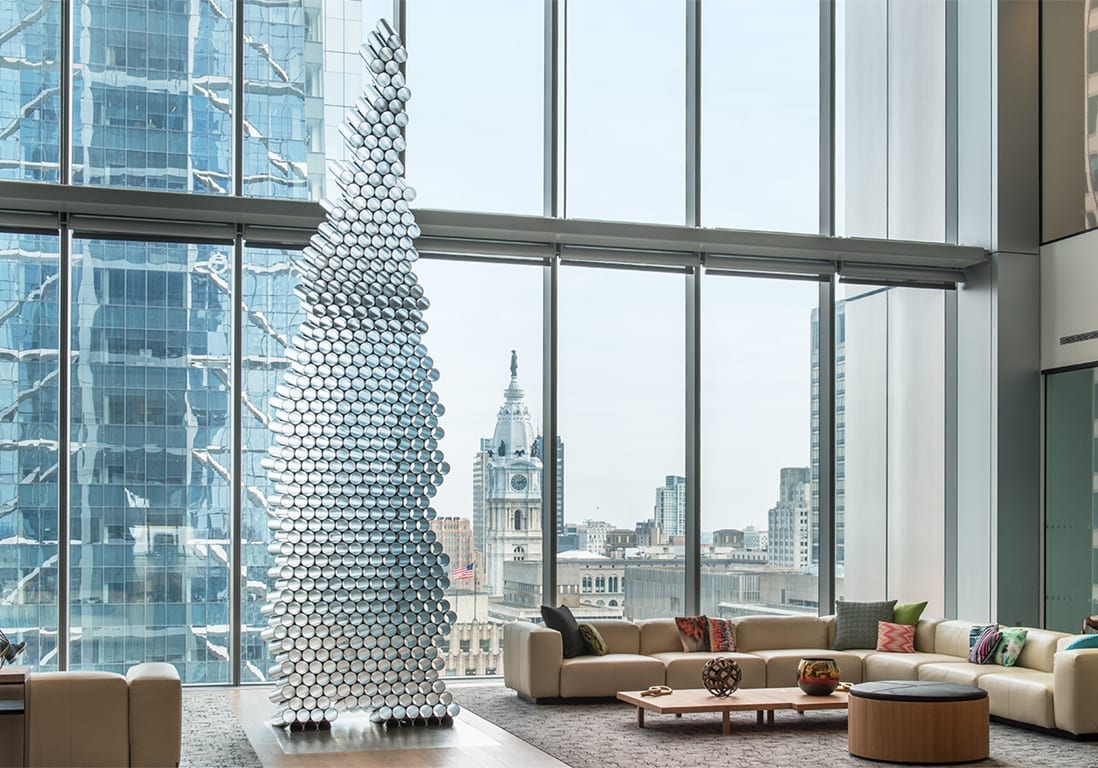 A resident of Stockertown, Pennsylvania, Emil Lukas works with a variety of materials to convey illusionistic visual experiences through his sculptures and paintings. Emil has exhibited throughout the United States and internationally. Fabric of an Upward Gaze extends his work with curved lenses by considering both the movements of the viewer and the surrounding architecture.
Watch Video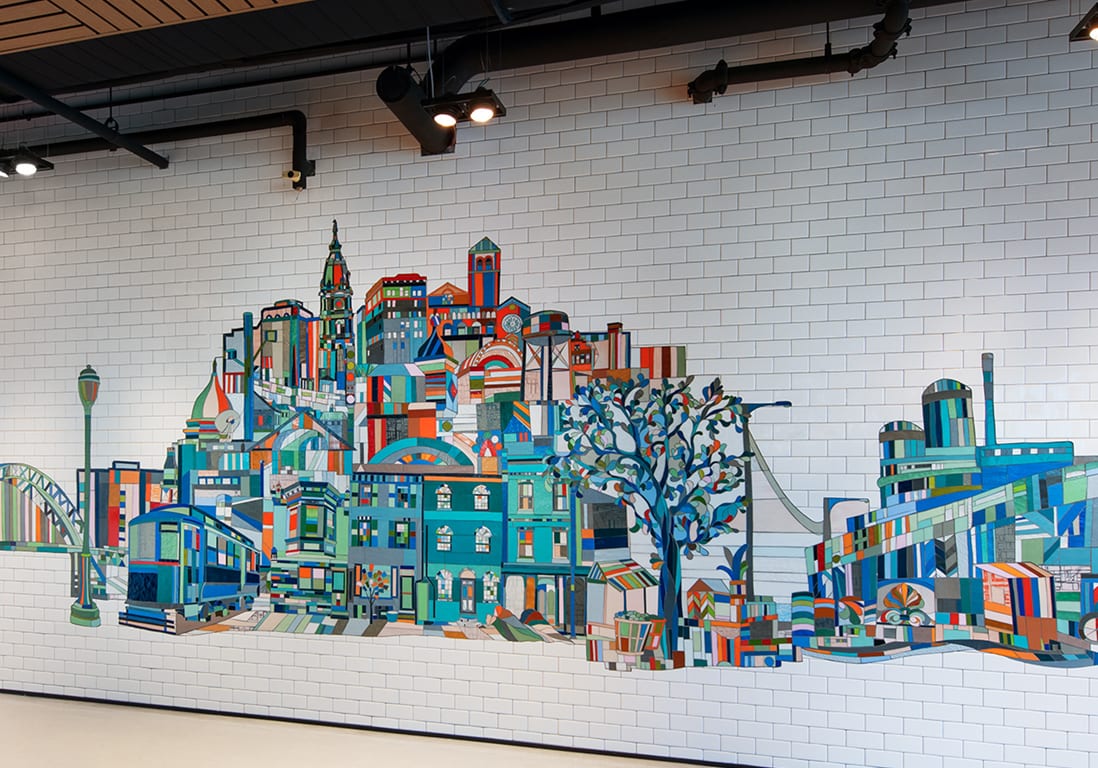 Emilie Ledieu & Miriam Singer
Glass mosaic mural
Philadelphia artist Emilie Ledieu has been involved in several mosaic projects. Miriam Singer is an artist who teaches printmaking at Philadelphia's Fleisher Art Memorial. River to River brings together a dreamscape of imagery, both idiosyncratic and universal, exploring the concepts of home, nostalgia and neighborhood identity. This is their second collaboration, the first being the Mural Arts project, Under the Clothespin, at Centre Square.
Watch Video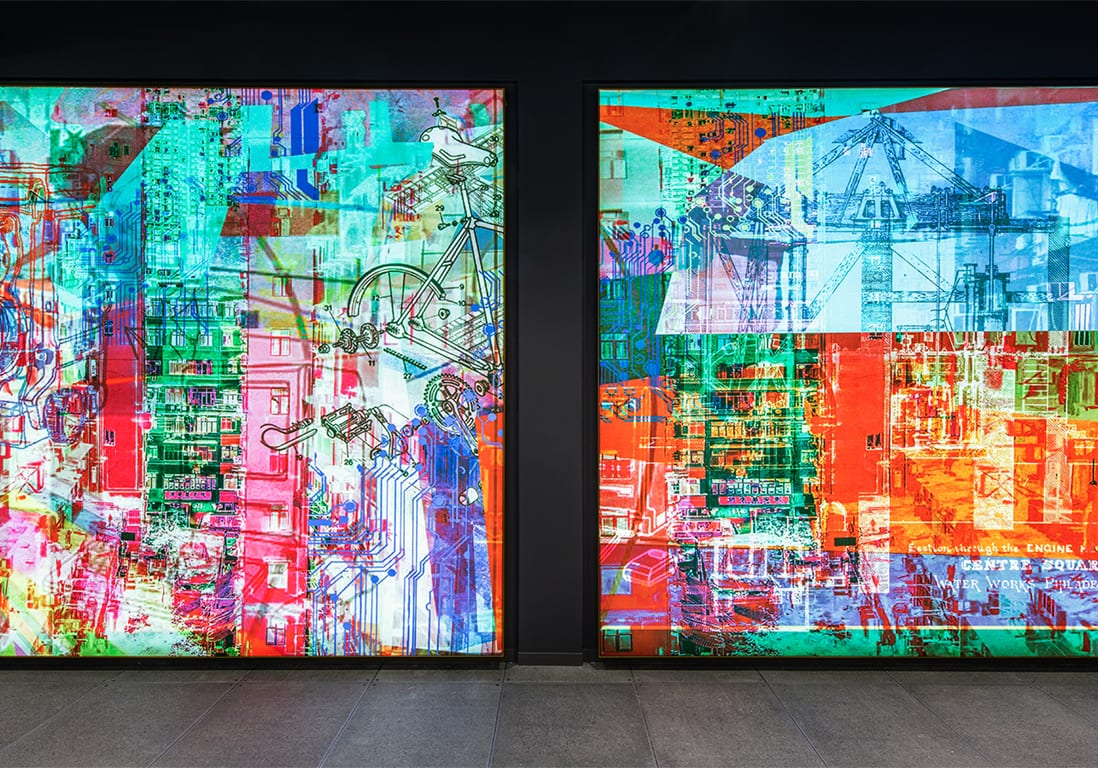 Ernel Martinez
Digital prints on silicone-edged graphic fabric, stretched over light boxes
A multidisciplinary artist and cofounder of the Amber Art & Design Collective, Ernel Martinez was born in Belize and received his MFA from the University of Pennsylvania. The Dichotomy of Technology references themes of innovation and technology and features images of Philadelphia's industrial past as well as the city's modern architecture.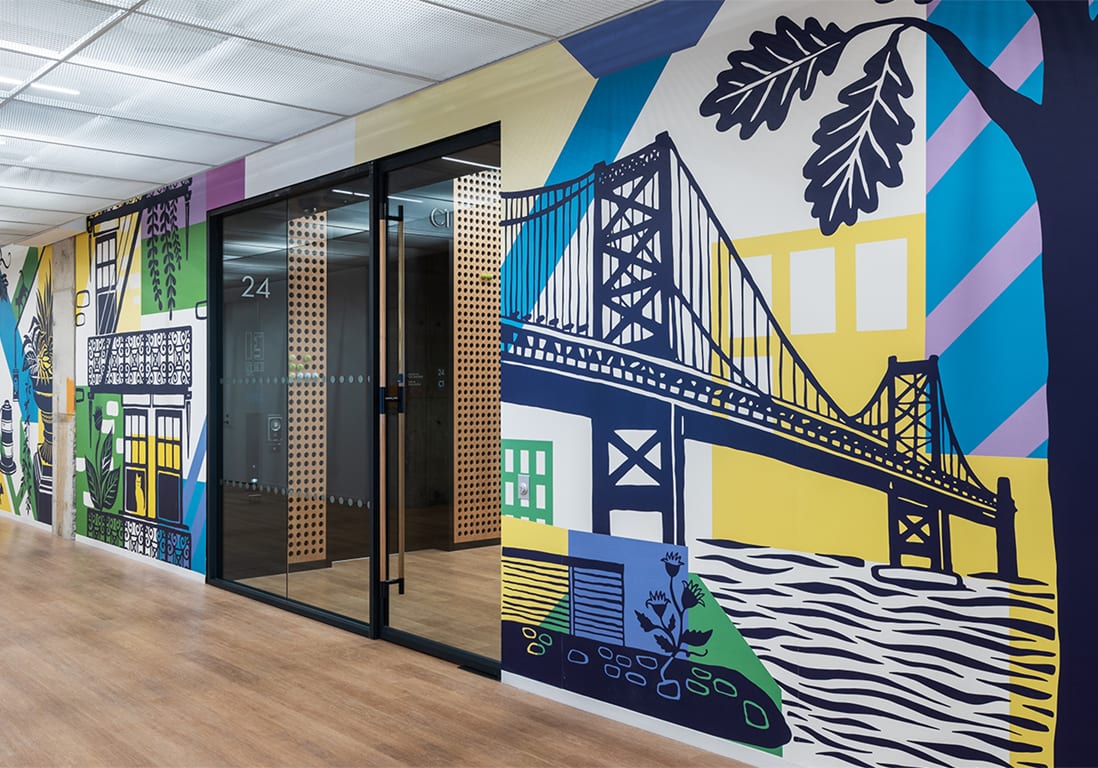 Gina & Matt
Inkjet-printed mural designed from ink and digital drawings; printed film on glass; custom-cut and dye-infused carpet
This husband-and-wife team met while attending art school in Baltimore, moved to Brooklyn and eventually landed in Philadelphia. They have shown at galleries and museums nationally and internationally. Urban City Park shows how Philadelphia's flora and fauna float between and complement the man-made elements of city life.
Watch Video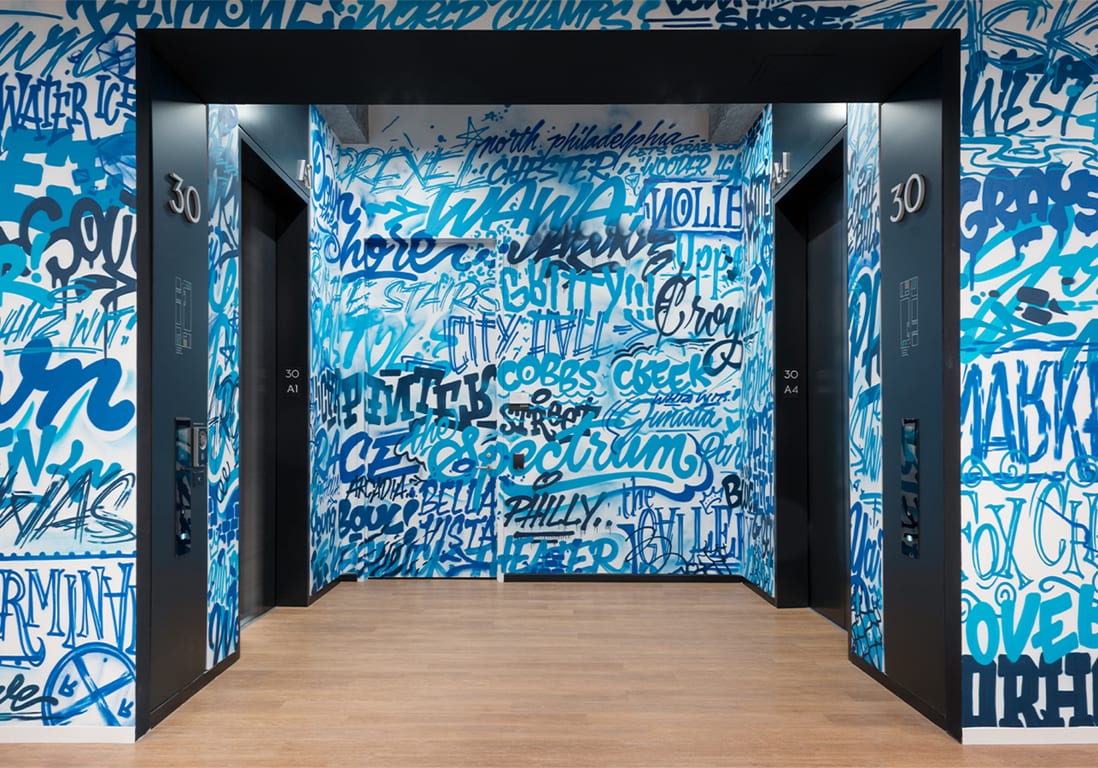 Glossblack/MECRO
Spray enamel
Raised in South Jersey, Jimmy graduated from Rutgers University with a BS in Ecology and Natural Resource Management. In 2006, he began painting freight graffiti under the alias of MECRO, created murals for various businesses, and eventually quit his day job in 2015. His Philly Collage XXIX, Philly Collage XXX, and Philly Collage XXXI, which Jimmy painted freehand and composed in the moment on the day of the install, include a number of Philadelphia references.
Watch Video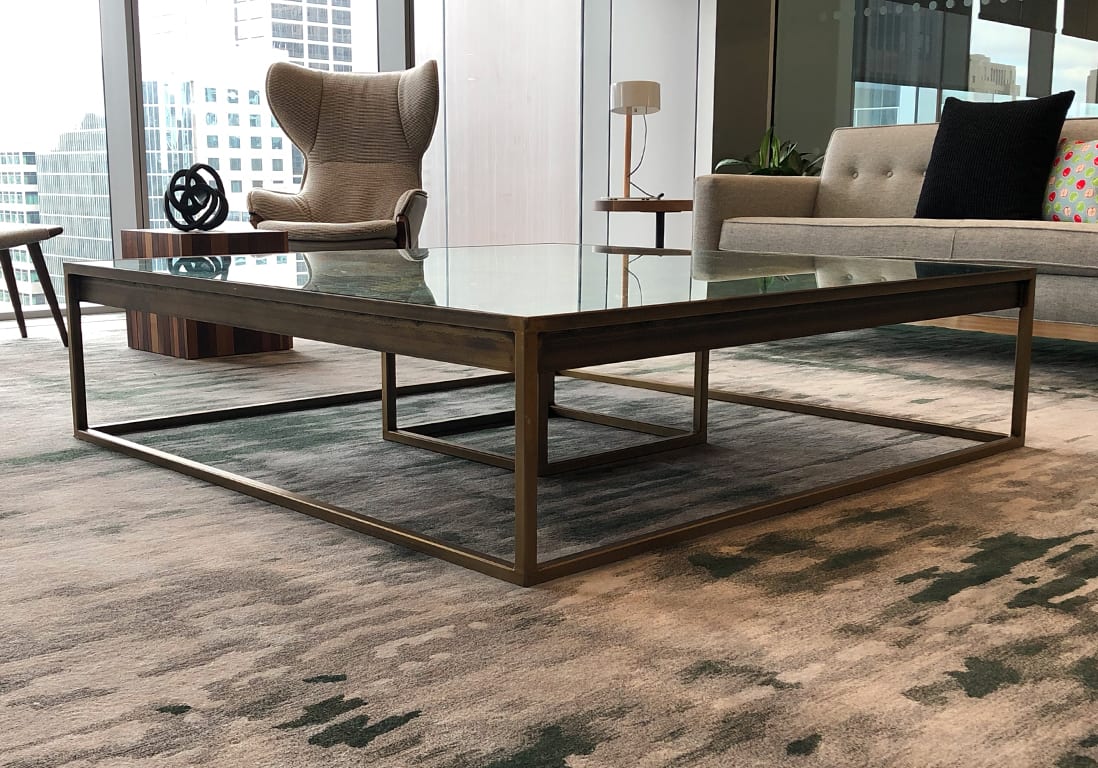 Groundwork
Wood and steel
Ernie Sesskin and Brian Foster combined their passions for architecture, antiques and interior design to create Groundwork furniture production in Philadelphia in 1993. Incorporating modern and historical references, Groundwork gives new life to salvaged materials by featuring them in new handcrafted and hand-finished pieces. Among the furniture they created for the Comcast Technology Center is this table with a top designed by Isaiah Zagar.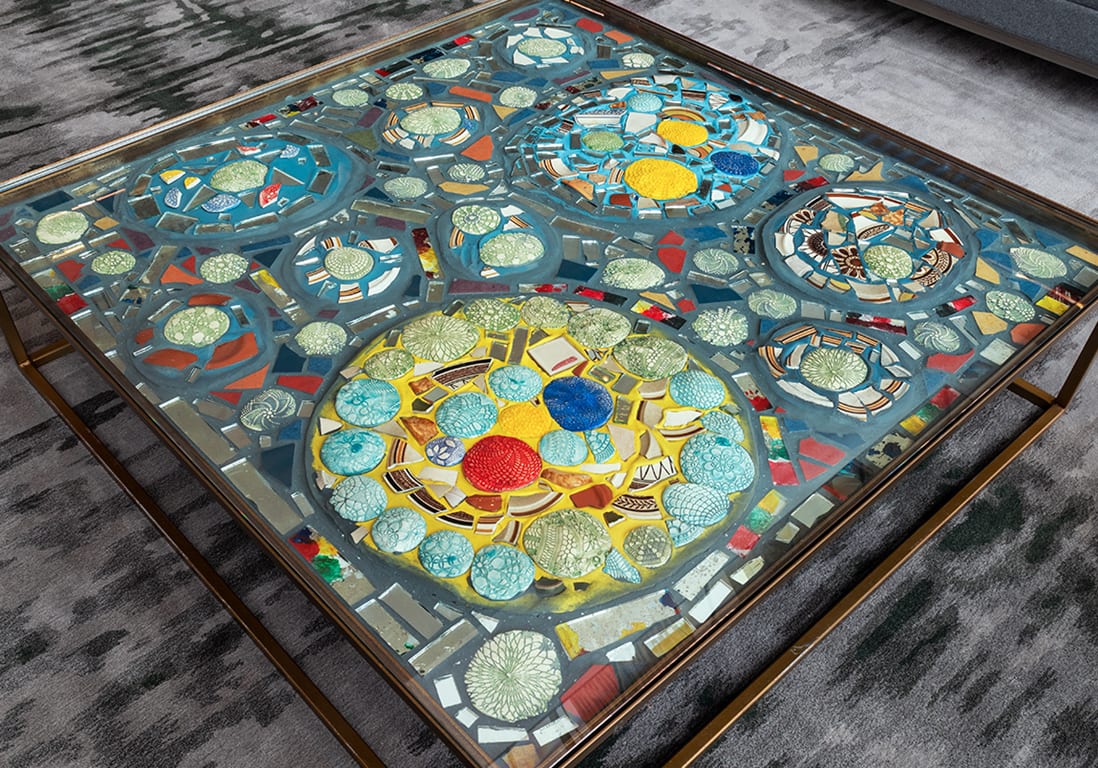 Isaiah Zagar is an award-winning mosaic mural artist whose work can be found on more than 200 public walls. He is the creator of Philadelphia's Magic Gardens, an immersive mixed-media art environment completely covered in mosaics. Isaiah has received grants from the National Endowment for the Arts and the Pew Charitable Trust. Isaiah designed the top of this table, the base of which was handmade by Groundwork.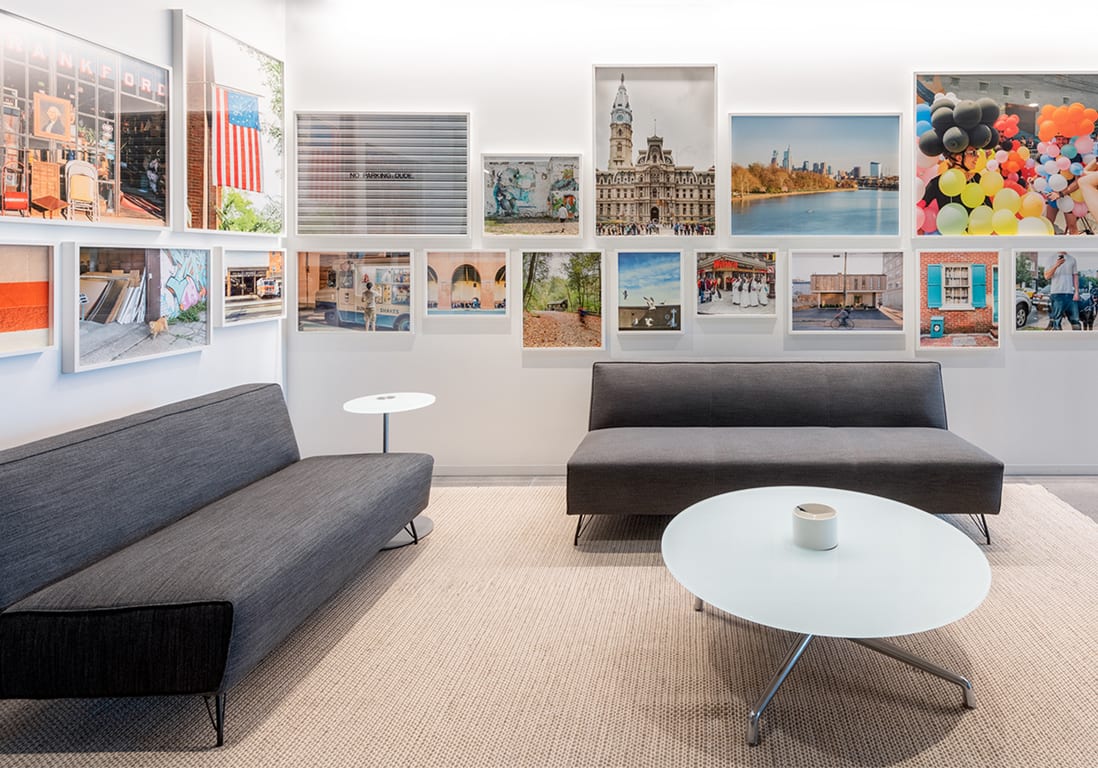 Jaime Alvarez
Archival inkjet prints
Puerto Rico native Jaime Alvarez studied photography at the Rhode Island School of Design and the Cranbrook Academy of Art in Michigan before landing in Philadelphia in 2005. Jamie created various installations of his urban landscape photos at venues in the United States and Canada. What began as a series of photographs taken during daily walks with his dog, Philly Daily highlights the best, quirkiest and most sublime parts of living in the city.
Watch Video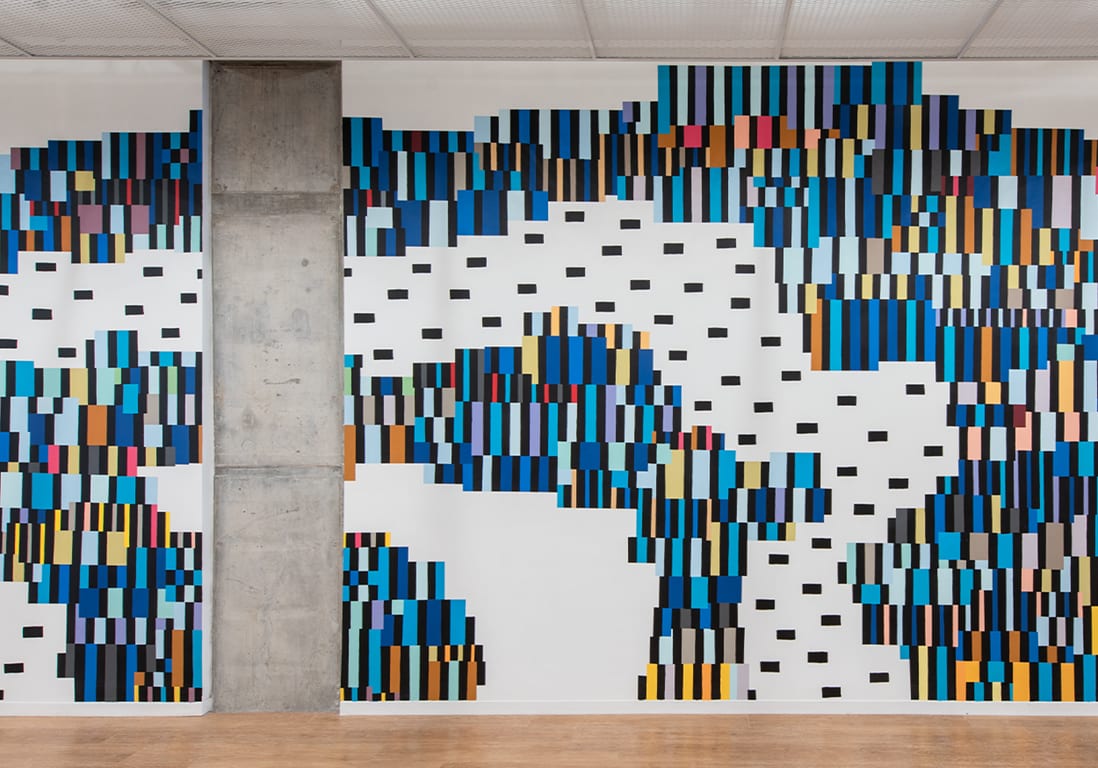 Jason Andrew Turner
Hand-painted acrylic mural
Jason Andrew Turner spent a decade living in Philadelphia, and continues to show his artwork here via both public works and in galleries. A graduate of the Savannah College of Art and Design, Jason produces drawings and paintings that feature rhythmic black lines contrasted with careful color associations within the context of abstraction. Painted by hand, Monomyth represents an abstracted landscape that symbolizes the spirit of connectivity and the nature of the networks built by Comcast.
Watch Video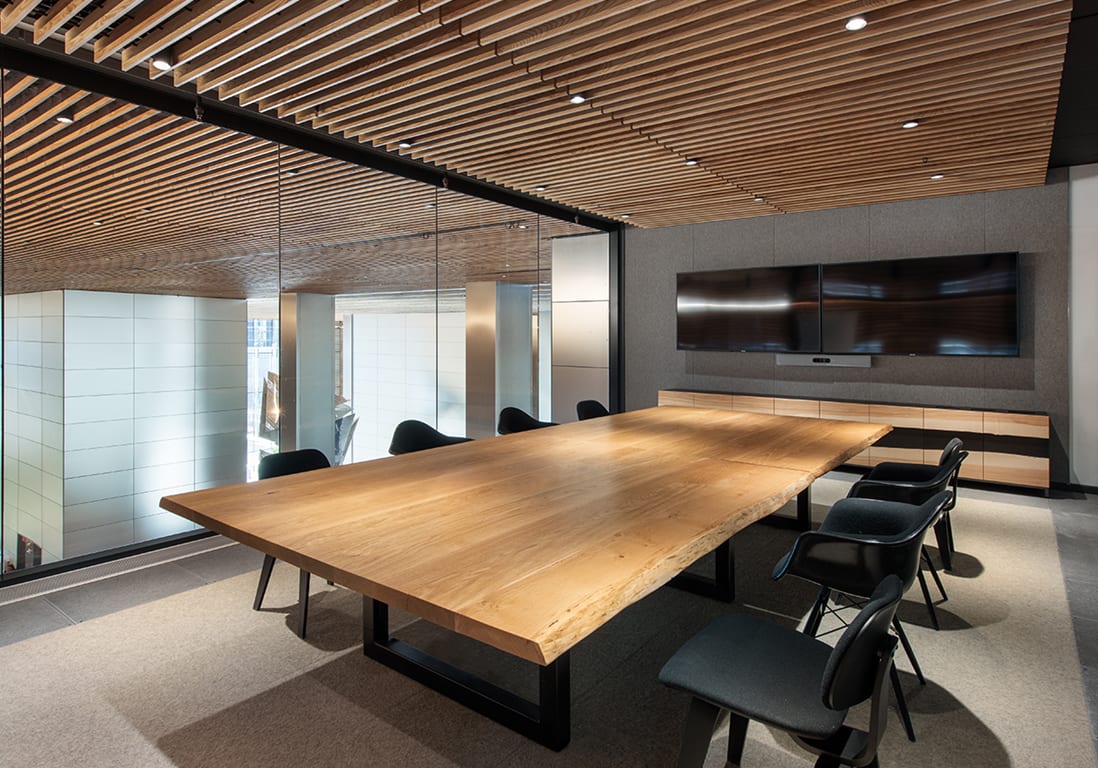 Raised in the artist colony of Bucks County, Pennsylvania, Jeffrey Greene returned there in the 1970s to set up his own woodworking studio. Influenced by the master George Nakashima, Greene has been professionally designing furniture using rare solid woods for more than 40 years, and his work has appeared in local and national exhibitions and many public and private collections.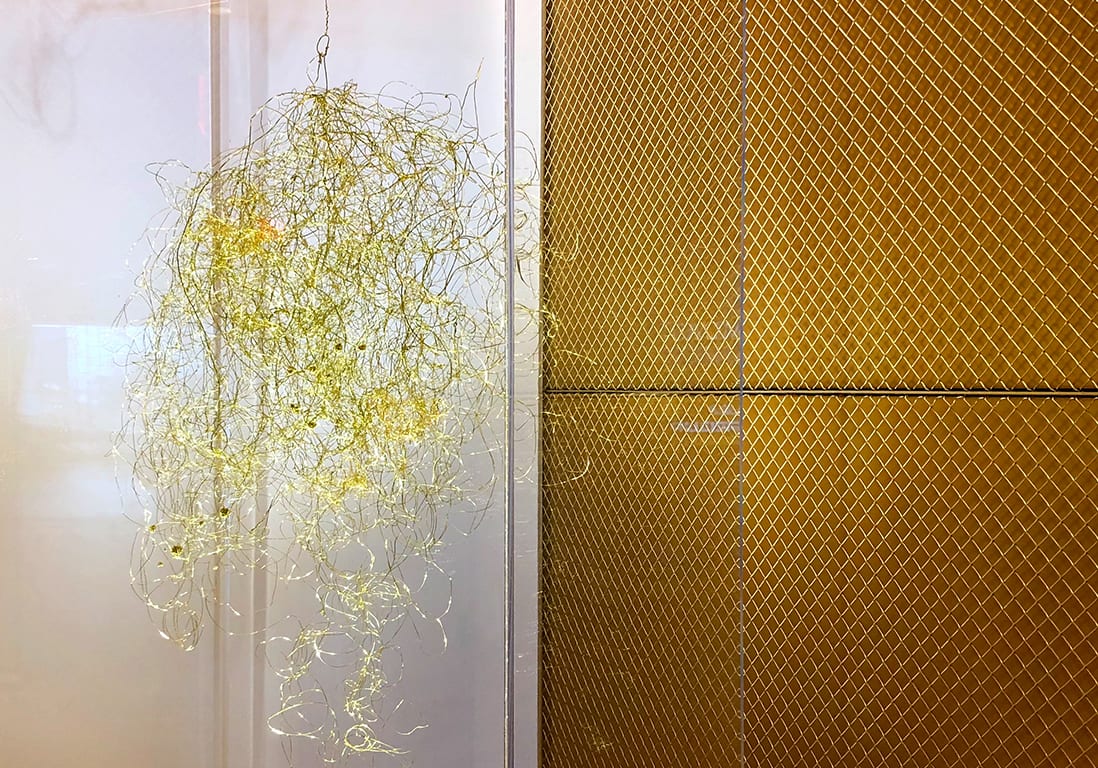 Jill Bonovitz
Various gauges of wire
Jill Bonovitz grew up in suburban Philadelphia and was exposed to art at a young age by her mother, Janet Fleisher, a pioneering gallery owner. In 1974, Jill cofounded The Clay Studio, which remains a nationally recognized organization for ceramic arts and education, and she maintains her own studio in South Philadelphia. Journey is comprised of unusually colored, beautiful wire which Jill composed by shaping (drawing) a very long strand of wire and then adding onto it, taking parts away, pushing, pulling, winding, adding, knotting and changing shapes until it felt right.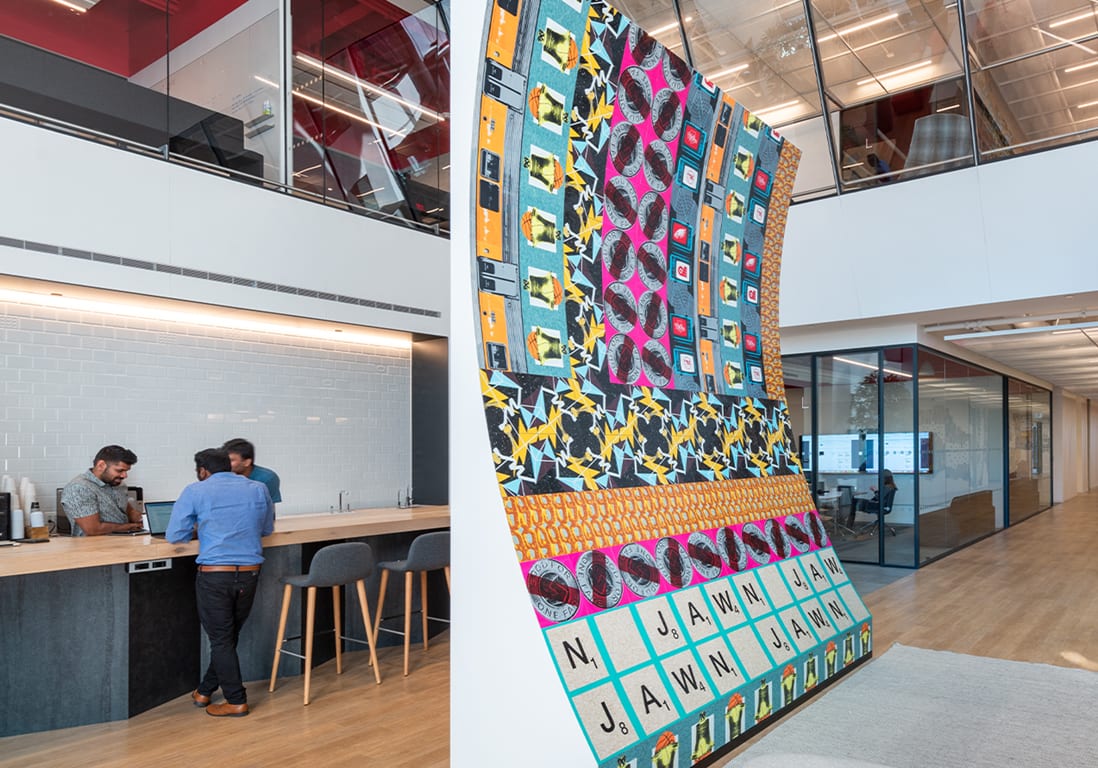 Leslie Friedman
Wood, composite vinyl, silkscreen, paper
A graduate of Brown University and the Tyler School of Art, Leslie Friedman is an artist and educator who specializes in printmaking, sculpture and installation. Philadelphia Circuit Ramp combines the rebel spirit of street art and skateboarding with the collage and geometric pattern-based aesthetic typical of Leslie's work—highlighting the distinctive systems and networks that made up the City of Brotherly Love circa the early 2000s.
Watch Video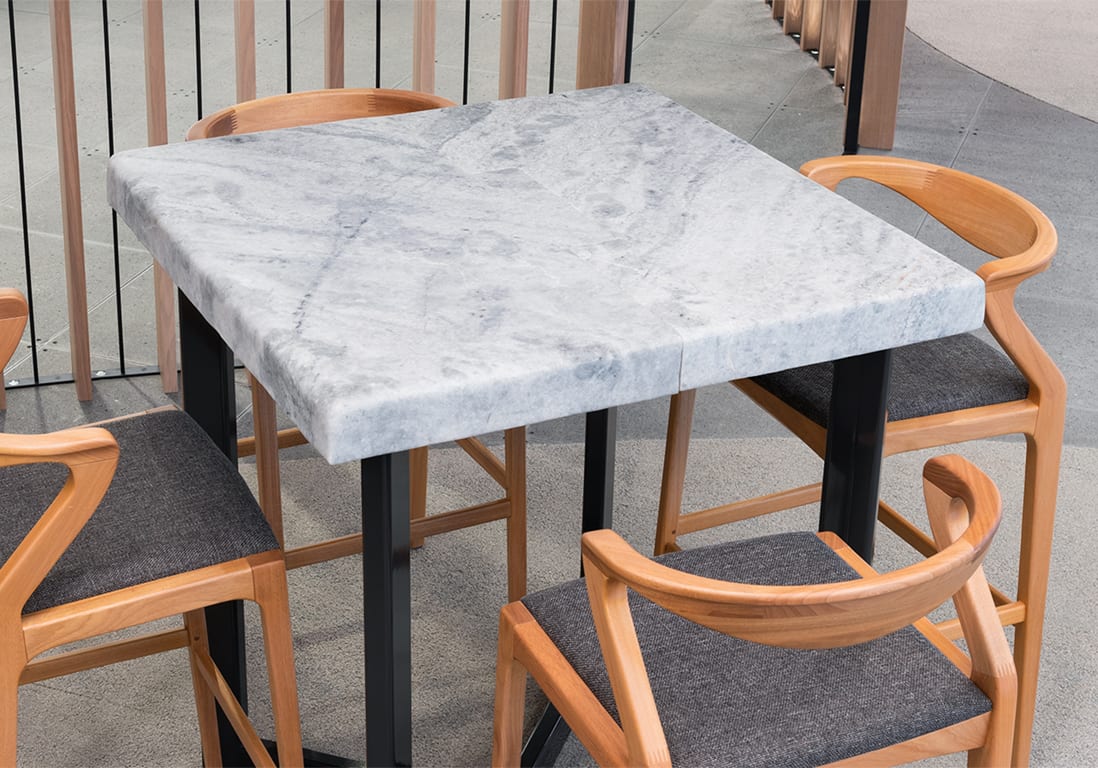 Based in Philadelphia, Lostine is an independent home furnishings company with a focus on warm American Modern aesthetics. Working closely with small shops and factories in the United States and internationally, Lostine makes products such as stools, chairs, cutting boards, tables, mirrors and other home décor items.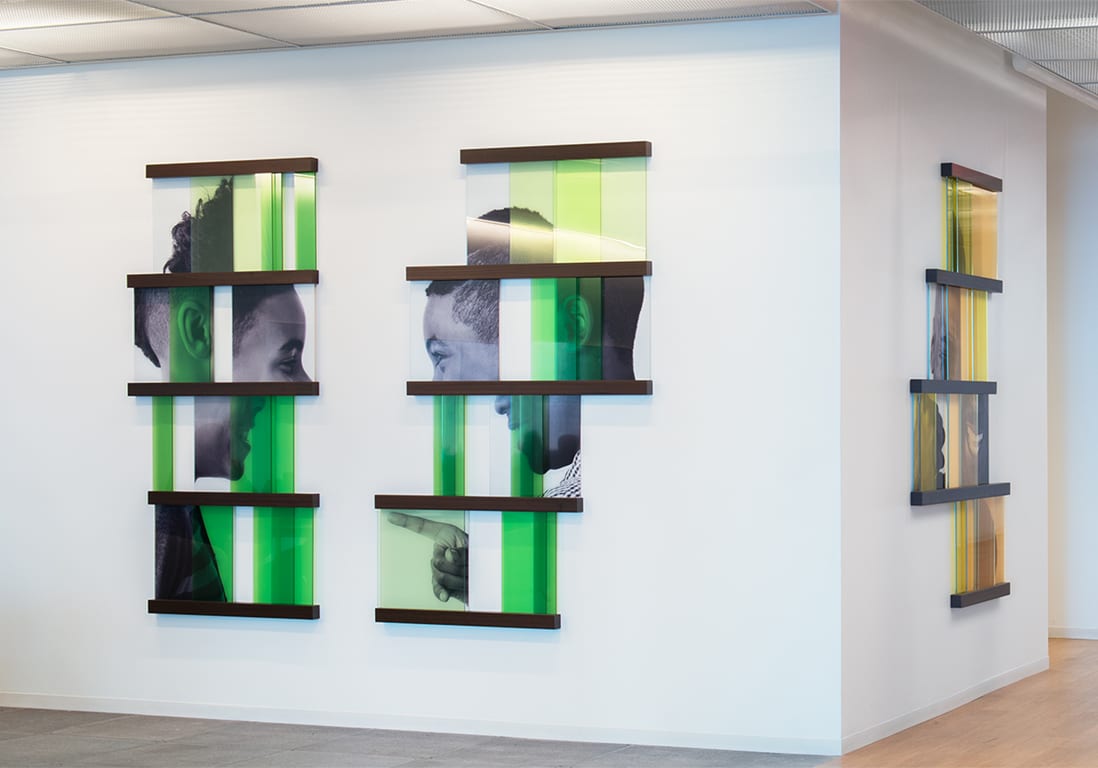 MIO & Karen Harmelin
Glass, laminated plywood, digitally printed film
Creative Director of MIO studio, Jaime Salm is a Philadelphia-based artist and designer whose work encompasses art installations, sculpture, furniture, environments and sustainable design strategy. Karen Harmelin is a Philadelphia-based fine artist and photographer whose work captures the fraction of a second in which the spaces between extremes of emotion thrive. Emotional Gradient translates universal emotions into a walkable visual experience, expressing diversity and difference within the humanity that binds us.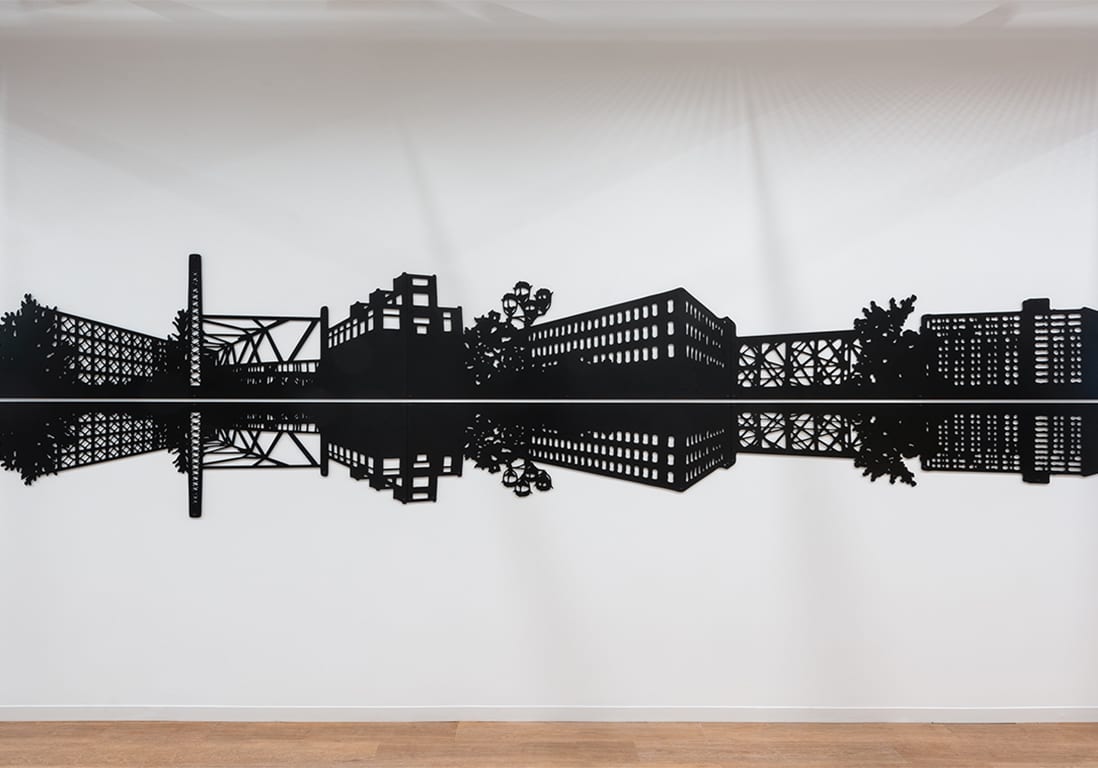 Marianne Lovink
Laser-cut powder-coated steel; vinyl on glass
Born in North Carolina and raised in Canada, Marianne Lovink is a Philadelphia-based sculptor. Marianne has received numerous arts council grants and recently completed several site-specific public art projects in Philadelphia and Toronto. Made up of graphic laser-cut metal silhouette compositions derived from original photographs, Grit City is a celebration of the often overlooked and ignored—but visually dynamic—elements of the city infrastructure.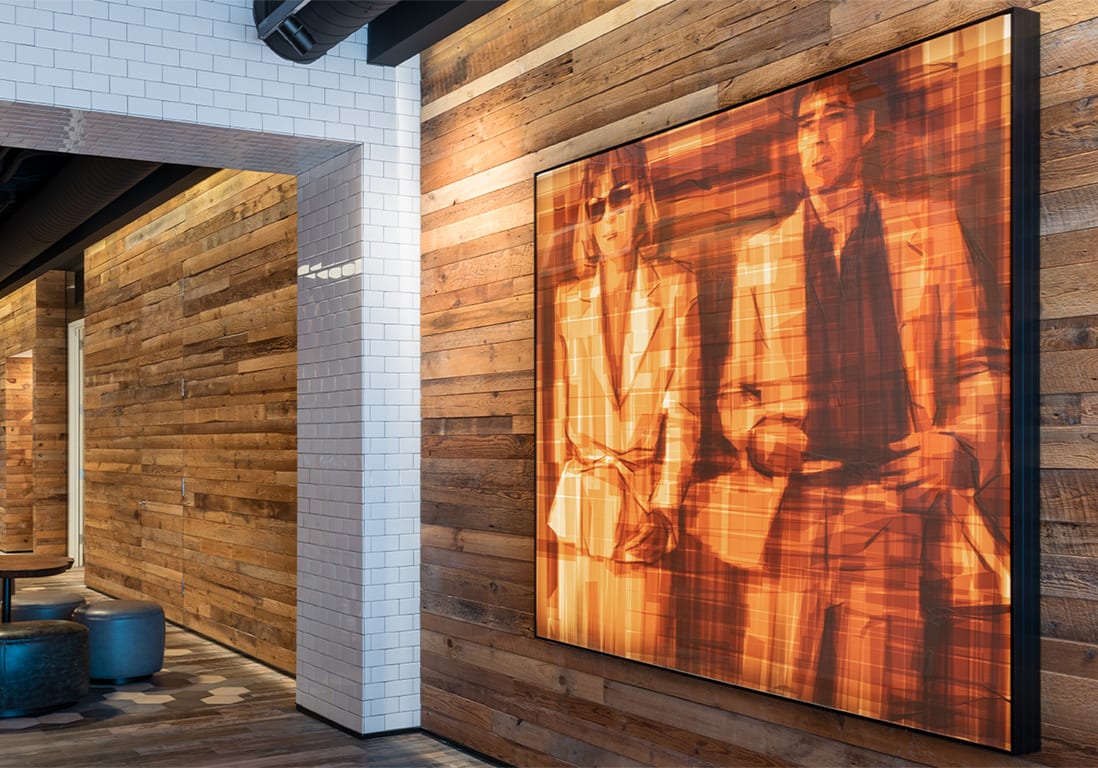 Mark Khaisman
Packaging tape on acrylic panel with aluminum LED light box
Mark Khaisman was born in Kiev, Ukraine, and now lives and works in Philadelphia. After studying art and architecture at the Moscow Architectural Institute, Mark worked for several decades in architecture, animation and stained glass design, and has been featured in several national and international exhibitions. Tape Noir Series is featured in the Comcast Technology Center.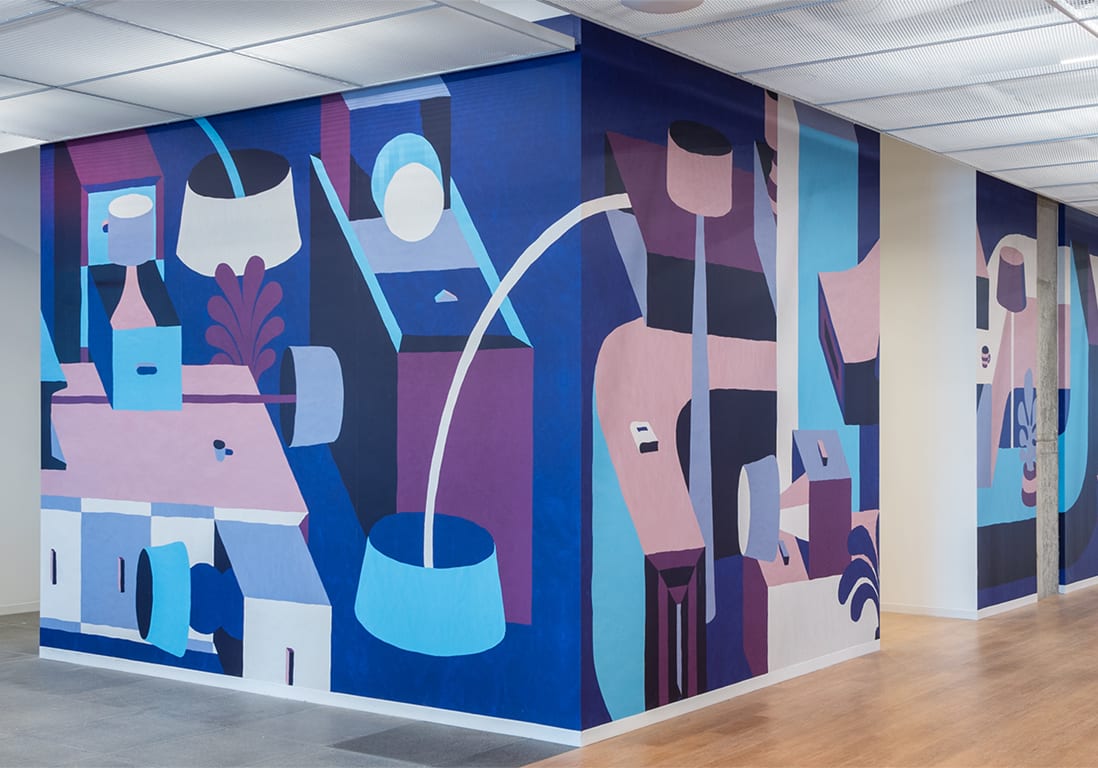 Nate Harris
Inkjet printed mural designed from acrylic on paper; printed film on glass
Nate Harris has collaborated with clients such as Adobe, Pabst, Target, David Byrne and Penguin Books. Nate currently works independently in Philadelphia, splitting his time between the art collective Space 1026, Nextfab and BYOP. Open Source features compositions celebrating the Comcast Technology Center's visible infrastructure, such as I-beams, vents and various other architecture-related objects.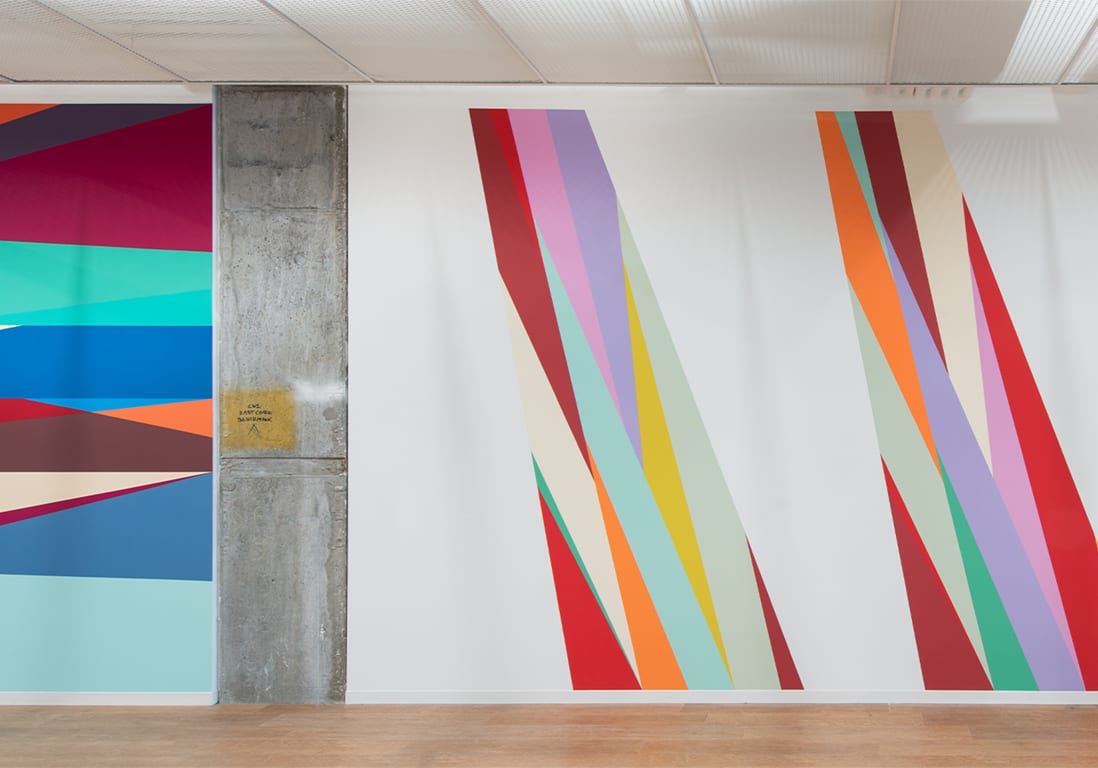 Odili Donald Odita
Acrylic latex wall paint
Nigerian Odili Donald Odita is a Philadelphia-based abstract painter. Commissioned to paint several large-scale wall installations, Odili has also had several solo exhibitions in international museums and institutions. Meant to foster the generosity of openness for all, Open Access reflects the internet at its greatest potential—as a space that can project the autonomy of individuality, while at the same time bridging the minds and means of people across the globe.
Watch Video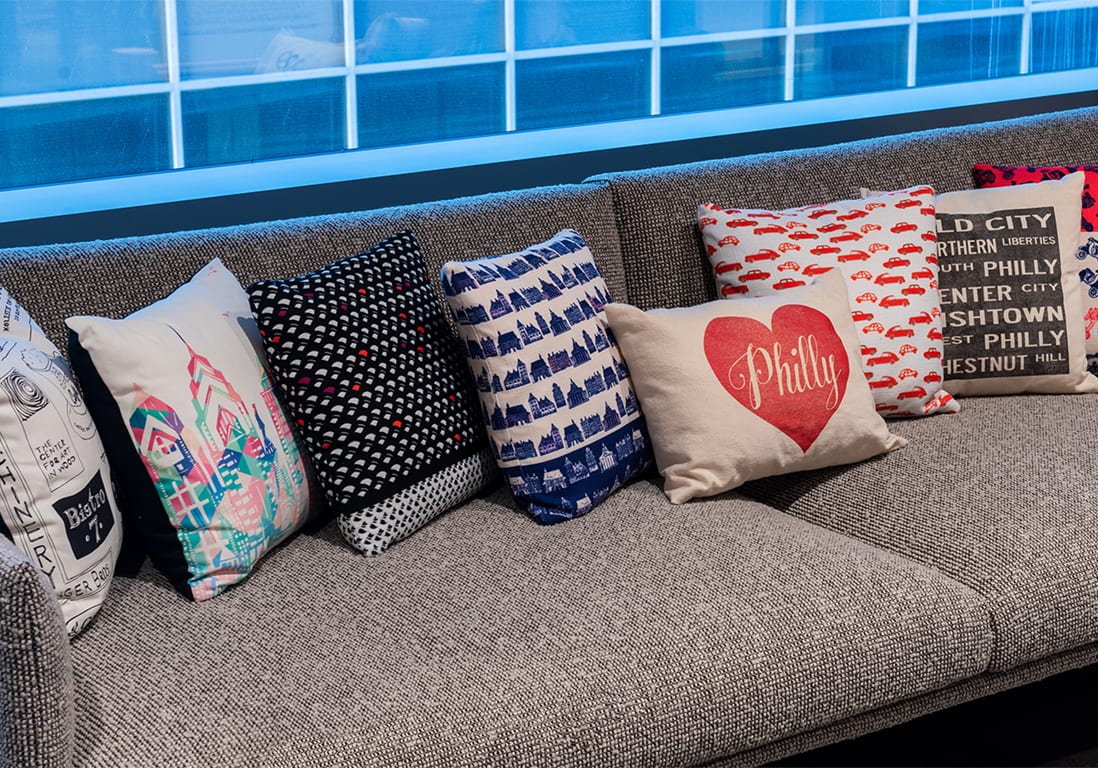 Philadelphia Independents
Handmade home décor
A boutique located in the Old City neighborhood, Philadelphia Independents sells handmade items from talented local artists and makers. Co-owners Tiffica Benza, Ashley Peel and Jennifer Provost have curated a selection of the best jewelry, T-shirts, accessories, ceramics, artwork, greeting cards, home décor and baby gifts.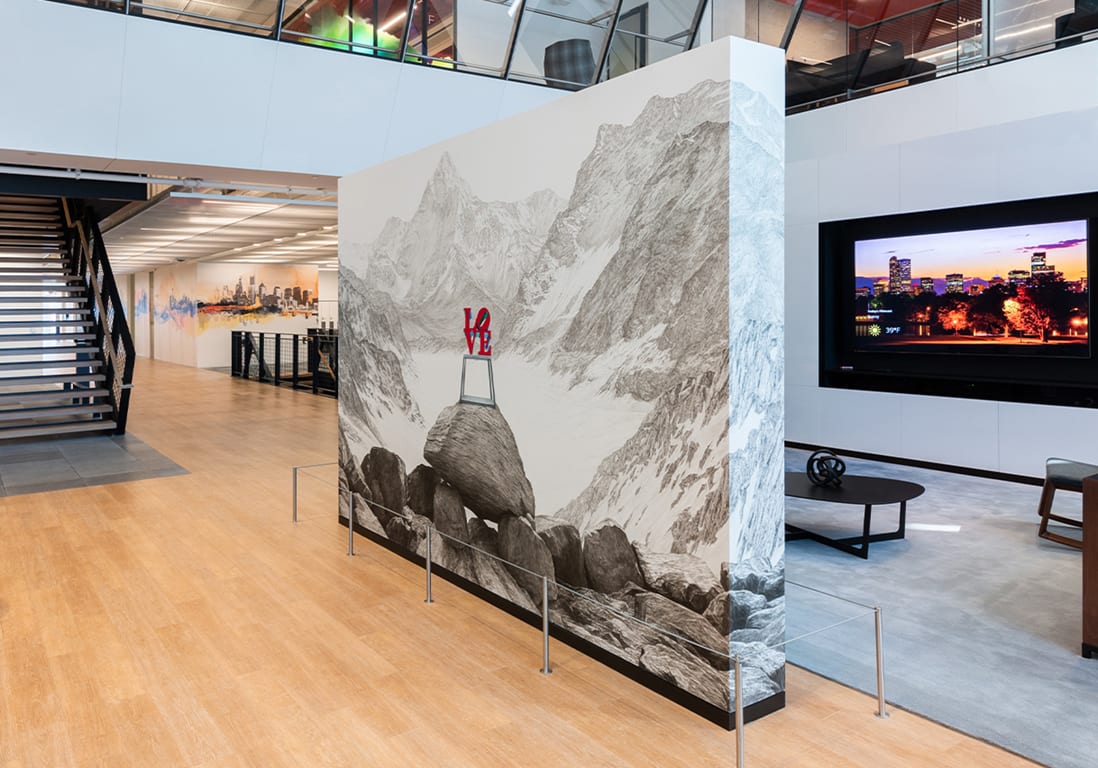 Phillip Adams
Charcoal and acrylic
Philadelphia-based artist Phillip Adams received his BFA from the University of Georgia and his MFA from the University of Pennsylvania. Phillip has exhibited extensively, and his public art is featured both nationally and internationally. The Parkway builds on the open feel of the Comcast Technology Center loft, using the architectural space to juxtapose the grandeur of the natural world with elements of iconic Philadelphia.
Watch Video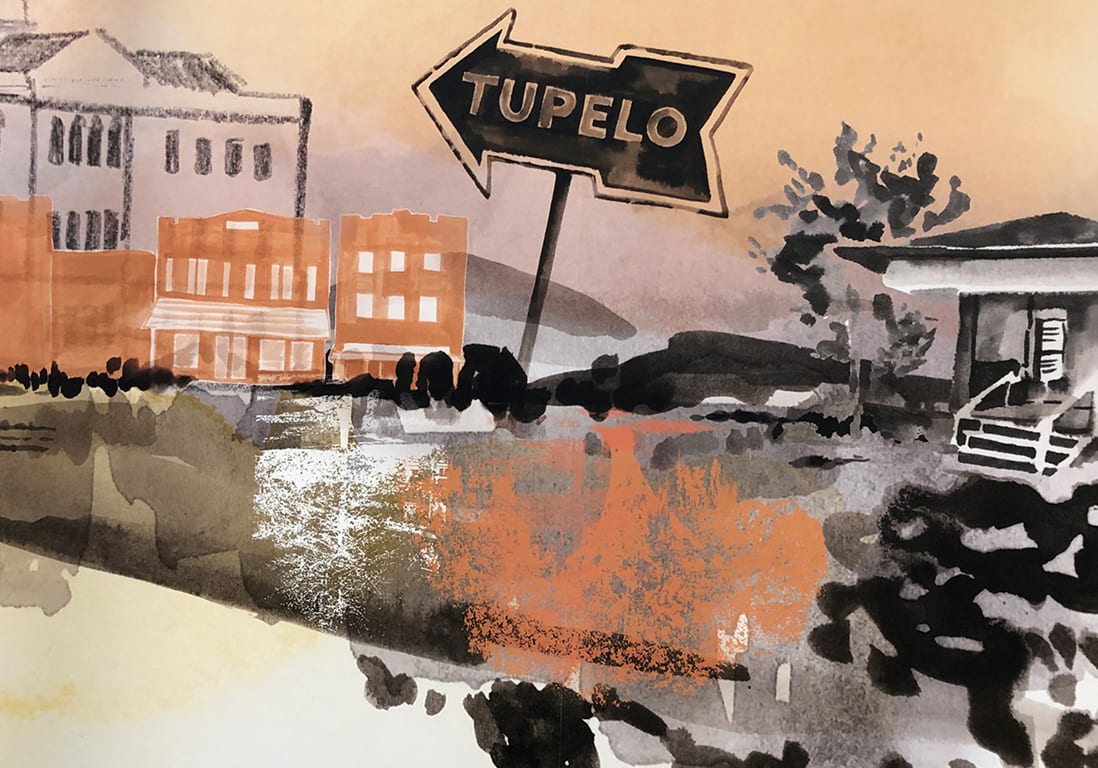 Printfresh Studio
Inkjet-printed mural designed from watercolor, ink, graphite and digital photography; printed film on glass
Husband-and-wife team Amy and Leo Voloshin founded Printfresh, a design studio based in Philadelphia, in 2006. Juxtaposed Landscapes aims to highlight the architecture, culture and natural beauty of some of the key American cities where Comcast has a presence. Collaborating artists include Christiane Moore, Sarah Haenn, Kathleen Callahan, Grace Hirsch and Gillian Chamberlin. The studio also designed handmade home décor for loft workspaces in the Comcast Technology Center.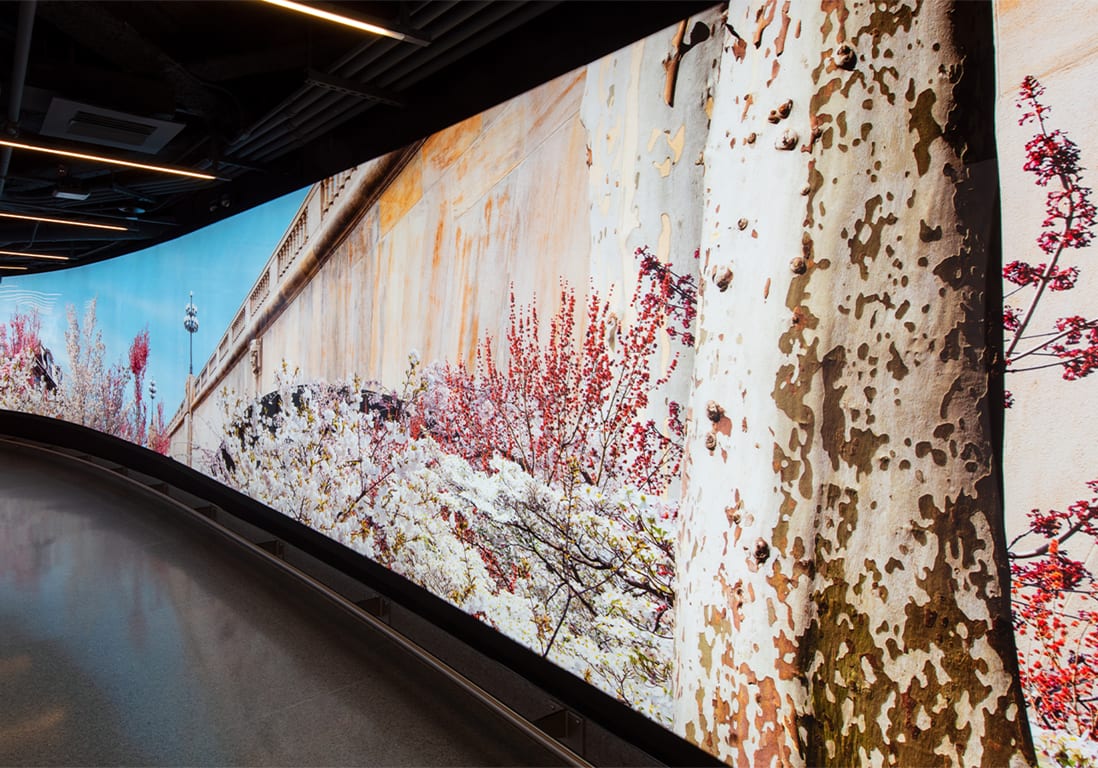 Sarah Zwerling
Digital photo collage
Sarah Zwerling is a Philadelphia-based artist who explores her personal relationship with the natural and built environment through photo collage, sculpture and installation. In addition to exhibition projects, Sarah has completed site-specific commissions. Connection is a digital photo collage of Philadelphia neighborhoods that reveals surprising perspectives through the dreamlike space. Sarah's piece is the only local art installation accessible to the public.
Watch Video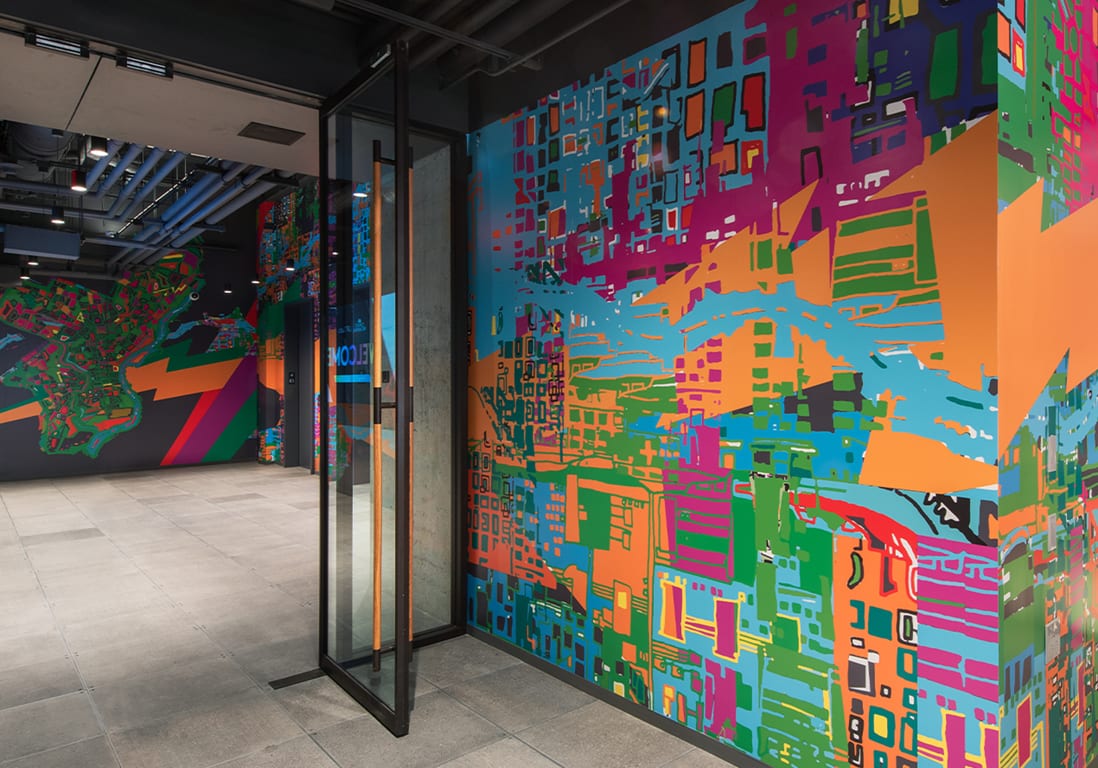 Shira Walinsky
Inkjet printed mural designed from digital painting
Shira Walinsky grew up in Philadelphia and has spent the last 16 years working with Mural Arts Philadelphia, designing and painting more than 30 murals. She co-founded Southeast by Southeast, a community arts space for immigrant and refugee families in South Philadelphia. Inter-Philaccelerate began as a series of drawings of Philadelphia inventions, spaces and maps and is inspired by the systems that connect us as a city.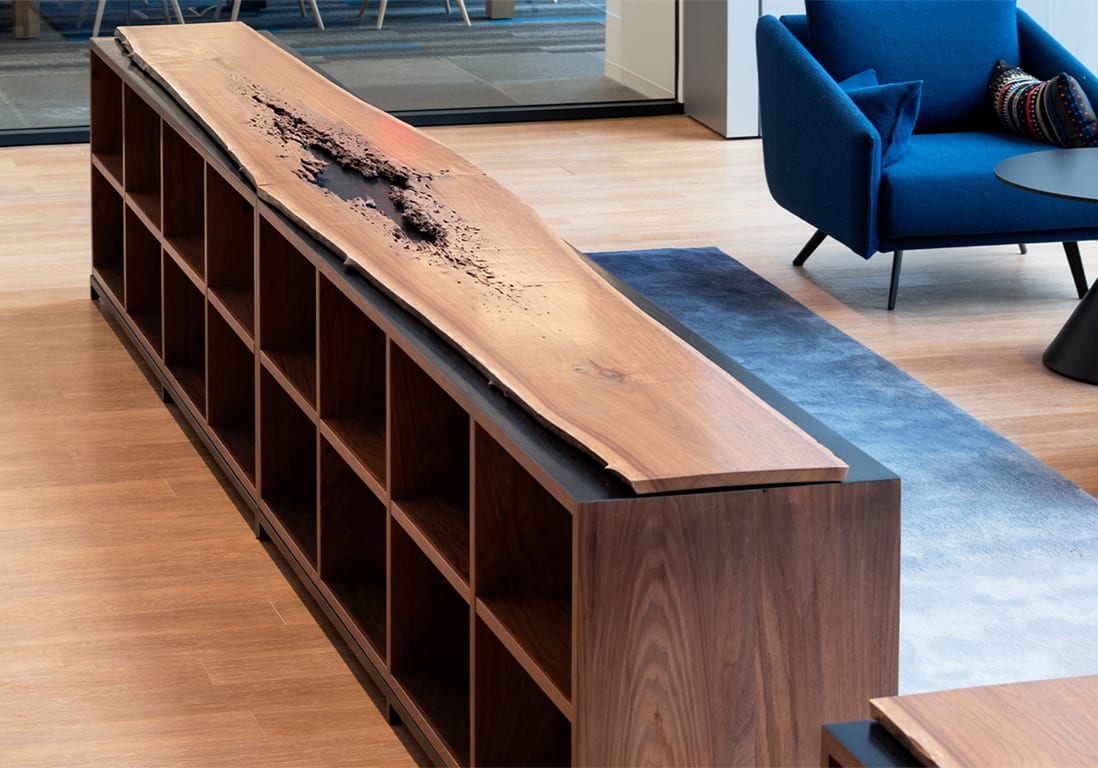 In the custom woodworking business since 2000, Springhouse Shop and Studio Inc., handcrafts heirloom-quality furniture and cabinetry from sustainably harvested Pennsylvania-grown hardwoods. Owners and husband-and-wife team Adam and Nicole Karr use time-honored joinery techniques and predominantly serve the Main Line Philadelphia metro area.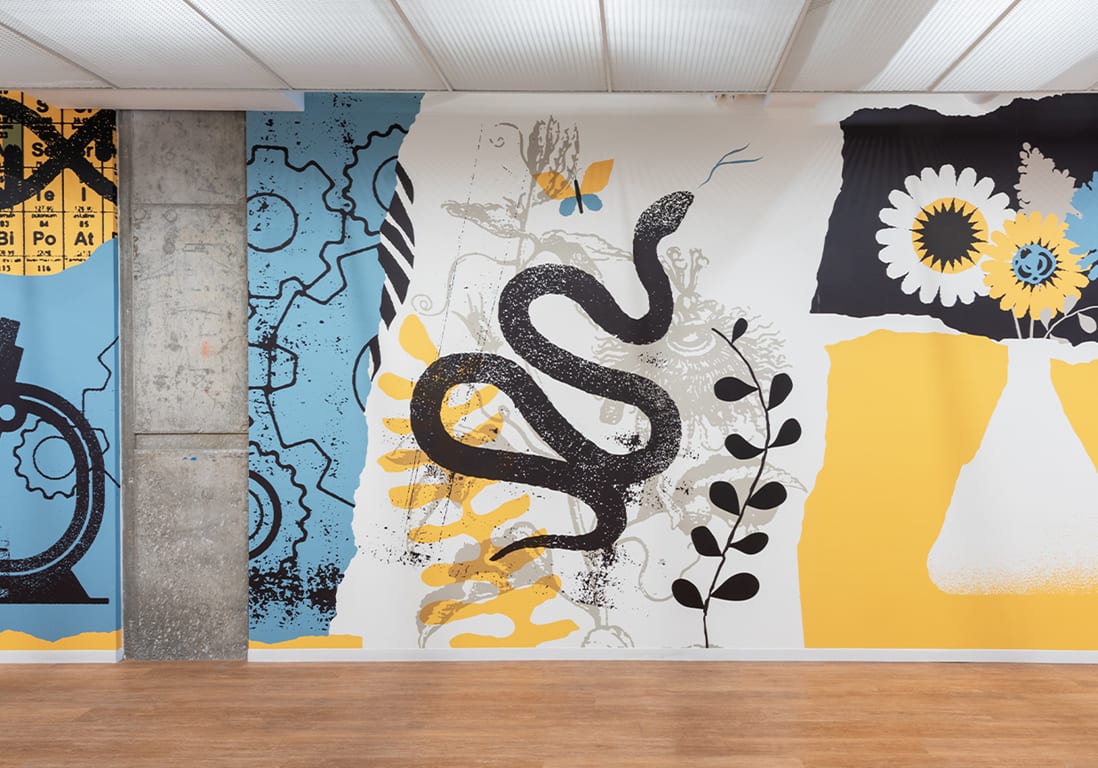 The Heads of State
Inkjet-printed mural designed from illustrations; printed film on glass
Jason Kernevich and Dustin Summers have created award-winning posters, book covers, branding and illustration for clients such as Apple, The New York Times and Nike. Beginning in 2002 in Philadelphia, The Heads of State helped usher in a new wave of American poster art. Philly Firsts celebrates the city's achievements with an illustrated journey through innovations past and present.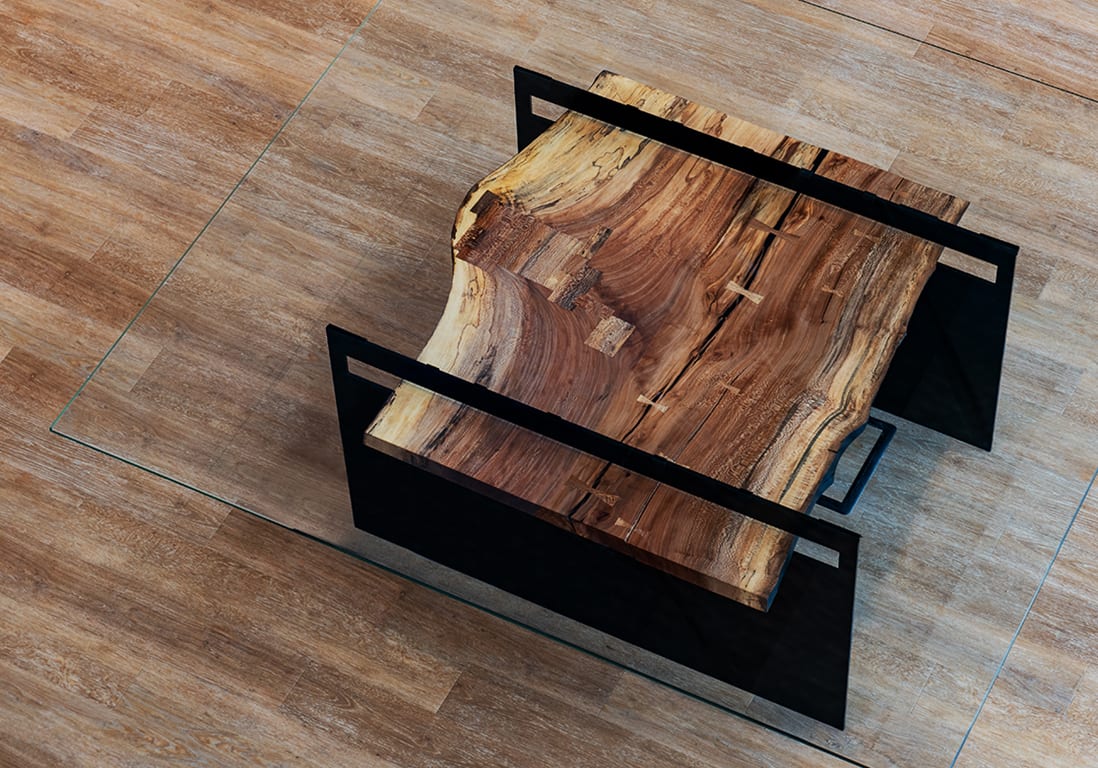 Based in Philadelphia, Twelve26 owner Paul Lichtenstein fabricates custom metal work, furniture and architectural design elements for individuals, architects, designers and the hospitality industry. In addition to being a furniture designer, Paul is also a proud father, a sculptor and a chef.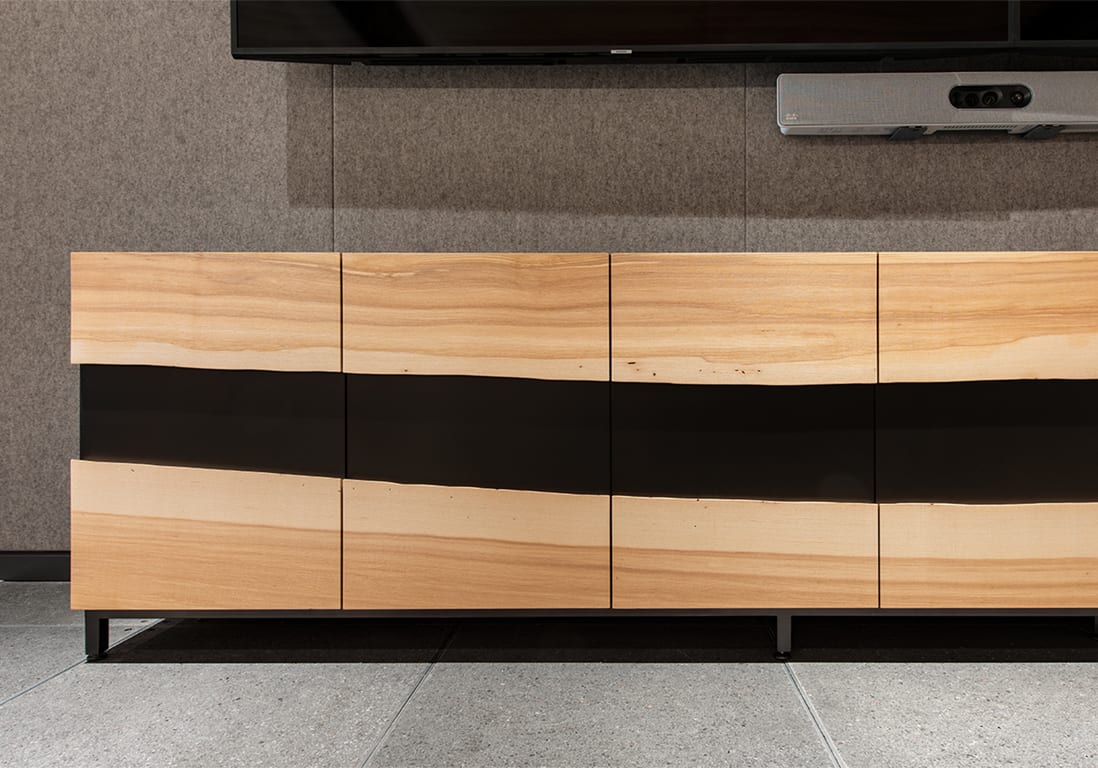 Founded by Jason Horvath and Bill Hilgendorf, Uhuru Design is a furniture design firm specializing in bespoke residential and high-end commercial furniture. Uhuru gained notoriety for its sustainable approach, leveraging reclaimed and found materials through a narrative design process. In 2014, the Brooklyn-based company expanded global supply chain capabilities to facilities in Lancaster County, Pennsylvania, and Southeast Asia.
Based in Philadelphia, Valeriya Volkova is a fanciful painter and illustrator whose playful designs can be found on pillows, iPhone cases, clothing and bags.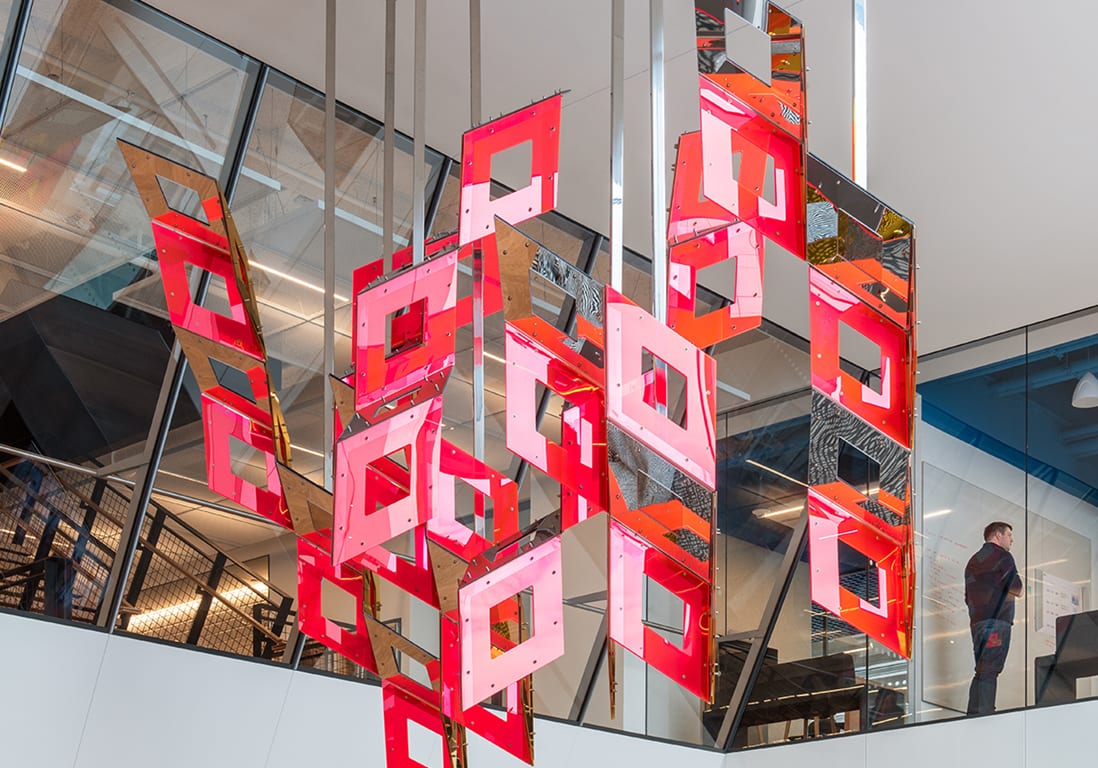 Virgil Marti
Polished stainless steel and mirrored acrylic
A Philadelphia resident, Virgil Marti graduated with an MFA from the Tyler School of Art, worked as a master printer and project coordinator at The Fabric Workshop and Museum, and taught at various institutions. He has exhibited at many venues and has received fellowships from the Pew Foundation, amongst others. Inspired by the Centennial Exhibition of 1876, Anomalous Cloud suggests an abstracted "thought bubble" and floats like a golden geometric cloud.
Watch Video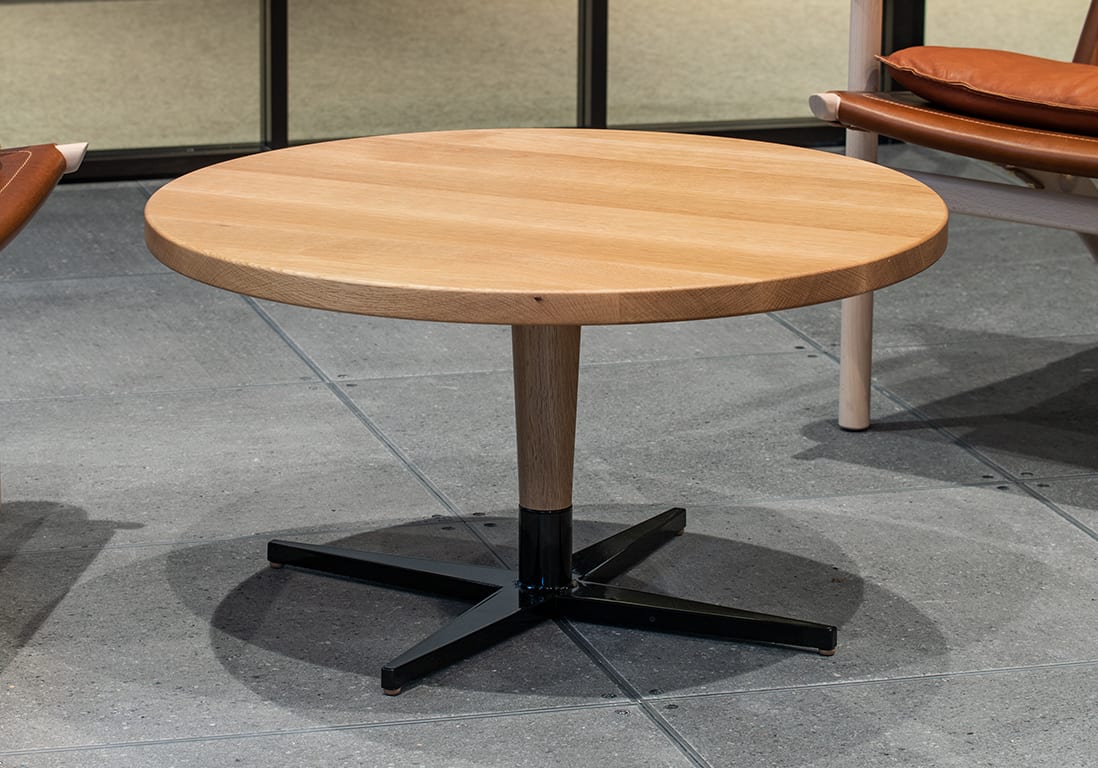 This small studio in Central Pennsylvania is devoted to making simple, modern furniture. All Wake the Tree products are designed and handmade by Anthony Becker, a second-generation woodworker who donates a portion of sales to the Old-Growth Forest Network to preserve ancient forests.
YOU MAY ALSO BE INTERESTED IN